International Leadership and English Language Camp (LELaC) 2016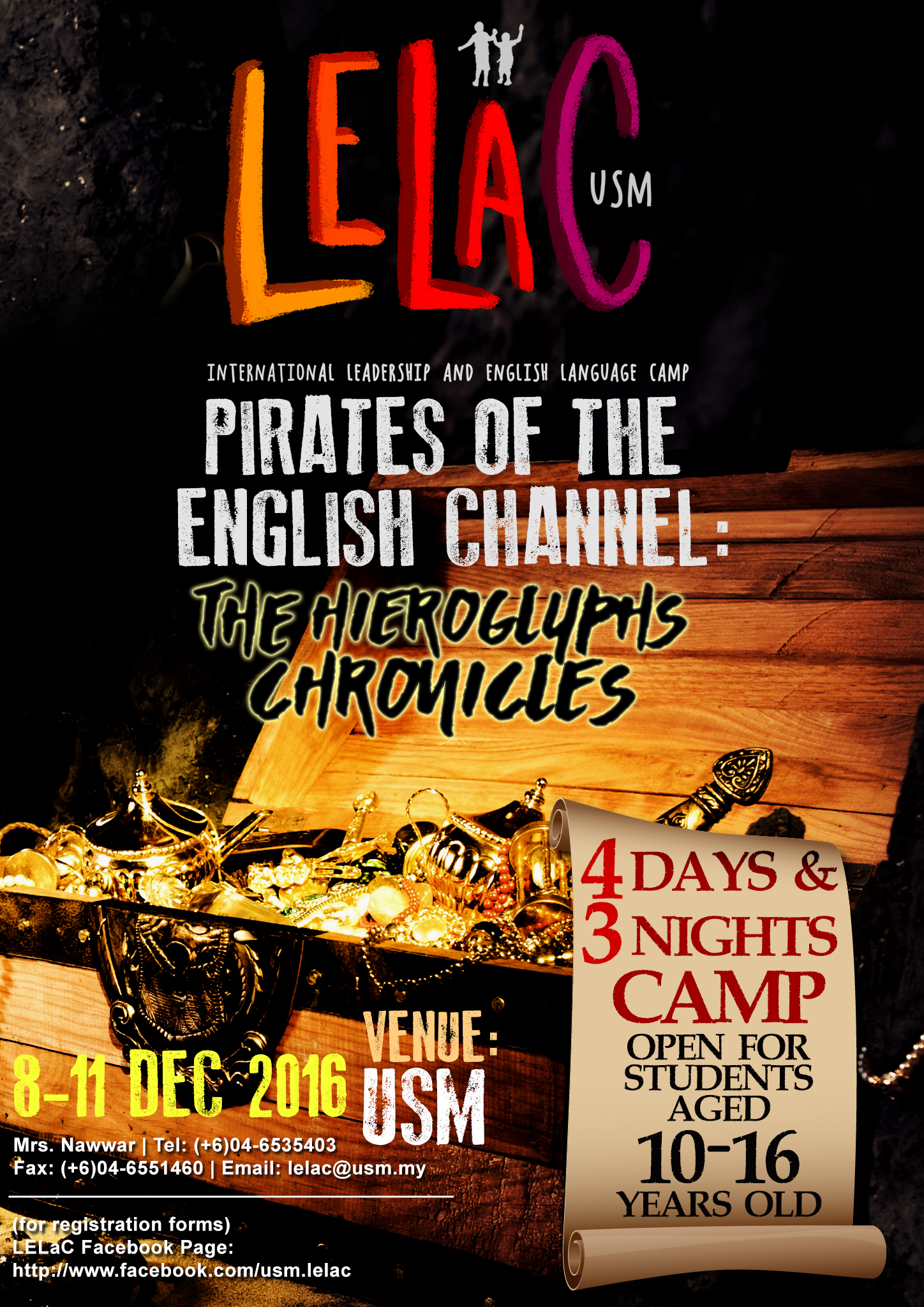 History
The first Leadership and English Language Camp (LELaC) was held in 2010 in Universiti Sains Malaysia. About 120 learners all over Malaysia attended the camp over the course of 3 days and 2 nights. The camp was planned and conducted by Professor Dr. Muhammad Kamarul Kabilan Abdullah together with his 6 TESOL students. This English Language-based programme started off with the aim to create a fund to partly sponsor the student's international teaching practicum in Maldives.
Since then, LELaC has grown into a well known and sought after English Language-based programme within Malaysia and other countries that has the main purpose in helping the learners to learn and to discover their English talents in a fun, challenging and enjoyable approach.
Through LELaC, the learners can discover their English talents by involving themselves with various activities that will challenge the learners both physically and mentally. As for the activities, the participants of this camp will experience the activities in a summer camp vibe. The activities will be conducted in both indoor and outdoor.
The Leadership and English Language Camp (LELaC) that was held on 27 November – 30 November 2014 is the first LELaC that was conducted internationally where the camp not only involve the local participant and TESOL students but it also involve the international students where they act as facilitators that help in assisting the camp as well as helping the participant to discover their English talents. This first international LELaC manage to gather a total of 172 participants that comes from all part of the country.
For this upcoming LELaC, we are targeting a bigger crowd. Due to that reason, more fun, challenging and interactive activities or should we say "Adventure" are prepared for the participants. Other than that, we also include quite a number of international facilitators that are not only fun and enjoyable person but they also has different background and experience in English Language that can help in assisting the discovery process.
Camp Info
The camp is targeted to youths aged 10 to 16 years old.
Participation is limited to 350 participants only.
Food and accommodation are included in the fee. The participant will be staying in USM's hostels and activities will be conducted in the main campus.
Transportation to camp venue from the Penang International Airport is provided for the international participants.
At the end of the camp, the participants will perform for their parents. They will also receive a certificate of participation and will be awarded for their performance.
Registration and payment will be closed on 17 November 2016.
Details
Date: 8 - 11 December 2016 (4 days and 3 nights)
Venue: Universiti Sains Malaysia, 11800 USM, Penang, Malaysia
Participation Fee
RM 200 – USM Staff, Associates and Alumni
RM 230 – Non-USM Associates
85 USD – International Participants
Payment Method
Postal Money Order (Kiriman Wang Pos)/ Cheque payable to: Usains Holding Sdn Bhd
Contact
Ms Nawwar: (+6)04-6535403 – lelac@usm.my
Ms Nurafiqah: (+6)013-5126428 – ekahaqifarun@yahoo.com
Ms Suhana: (+6)013-8462886 - suhana_nana1994@yahoo.com
Fax: (+6)04-6551460
LELaC Facebook- https://www.facebook.com/usm.lelac
How to Register
Download the registration form.
Fill in the registration form.
Send the registration form to lelac2016.usm@gmail.com OR fax to (+6) 04-6551460.
The form could also be mailed to:
Unit Penyelidikan Pendidikan Asas
Pusat Pengajian Ilmu Pendidikan
Universiti Sains Malaysia
11800 USM, Pulau Pinang.
For local participants, please download form here :